Attracting Customers with Low-Content Products
Hey there! Are you looking for some creative and easy ways to attract new customers and increase revenue? Low-content products are a fantastic solution that you might want to consider.
These products require minimal or no content and are often something like a workbook, planner, or template. They can be digital or print, but digital versions are usually more popular due to the low-cost margin. With software programs like Canva, low-content product creation is a piece of cake!
The best thing about these products is that they take very little time and resources to create.
You can use low-content items to offer more for your audience by mixing them with your other merchandise. These items also help you to diversify your offerings and create new revenue streams. There are plenty of low-content products you can offer, such as:
journals and notebooks
planners
workbooks
checklists
learning logs
toolkits
Journals and Notebooks
If you're interested in offering journals and notebooks, there are many ideas you can consider such as a:
gratitude journal
goals journal
positivity journal
free writing notebook
dream journal
success journal
new things learned journal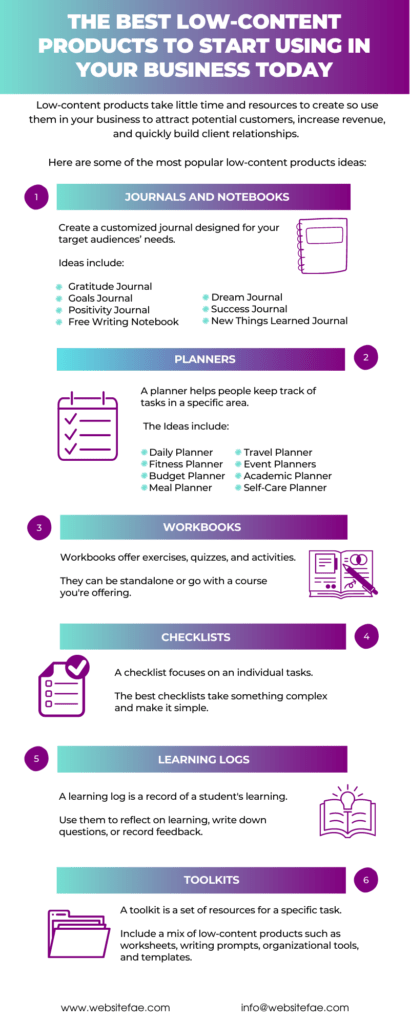 To make your journal unique, take a look at what your competitors offer and provide more value by making it higher-quality, more targeted to your audience, or full of extra elements like writing prompts or inspirational quotes.
Planners
Planners are also a great low-content product that people love. You can create a digital planner that users can interact with on their tablet or phone. Some planner ideas include a:
daily planner
fitness planner
budget planner
meal planner
travel planner
event planner
academic planner
self-care planner
Workbooks
Workbooks offer exercises, quizzes, and activities for students. They can be standalone or go with a course you're offering. If you want to offer a workbook and an online course, design them together. The course chapters, focus on giving the user everything they need to complete each activity so they can learn the material.
Checklists
Checklists are another simple low-content product that people love. They are more focused on an individual task and can be nothing more than a PDF with the process steps and a box next to each step. The best checklists take something complex and make it simple, like building a website, creating a content management plan, or doing house cleaning.
Learning Logs
A learning log is a personal record of your growth as you learn new things. Students use learning logs to reflect on what they've learned, write down questions for further study, or record feedback from others.
Toolkits
Lastly, a toolkit is a set of resources or tools related to a specific task or topic. You can create a toolkit to help your customers with things like email marketing, SEO, social media marketing, or anything else you specialize in.
If you need help creating accessible content, be sure to book a call at https://websitefae.com/booking